Abingdon Marathon Race Report – 23/10/16
On Sunday 23th October, Alex Jeffreys ran the Abingdon Marathon in a bid to get some more marathon experience leading up to London next year.
The race comprised of a nice mixture of country lanes and footpaths, starting and finishing on the Tilsley Park running track. After a gentle first 5 miles, the race passed through the centre of Abingdon, before embarking on a two lap route through the villages of Drayton, Milton and Sutton Courtenay. Then back through Abingdon to Tilsley, with an underpass cruelly thrown in at 24 miles.
Alex came 18th overall with a chip time of 2.51.31 and a new PB.
Tonbridge 10k – 23/10/16
The Tonbridge 10k took place in Hildenborough with 4 Harriers taking part.
The course was on open roads and with Mike King taking the lead, he had to dodge cars, horses & dog walkers.
He managed to hold on to the lead and claimed his first race win. Dave Hadaway managed to miss out by only 15 seconds on the M50 prize. Unfortunately Matt Newman was also disappointed because there was no team prize, however if there was one the Harriers would have won it.
Full result: 1st Mike King 36:41, 8th Dave Hadaway 38:57, 32nd Matt Newman 43:52, 58th Robert Trzaskowski 48:41.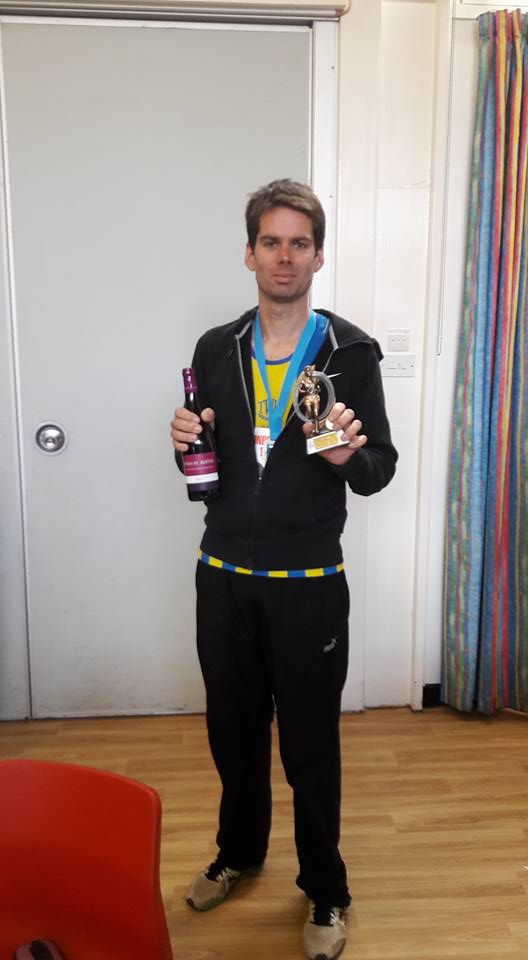 Great South Run Report – 23/10/16
Also on Sunday, Nicola Morris, Colin Ricketts, Rosie Harris, and Bob Lawrence headed down to Portsmouth for the Great South Run.
The course is mainly flat and takes in the historic dockyard and other sights of Portsmouth.  There is lots of support and encouragement on the way – helped by having your name on your number – so lots of random strangers can cheer you on!
The conditions were very good and runners finished in glorious sunshine. Rosie Harris managed an age group PB and Bob Lawrence completed in first 10 mile race in many years.
Full results: 848th Nicola Morris 1:11:38, 2618th Colin Ricketts 1:20:38, 8363th Rosie Harris 1:38:06, 13194th Bob Lawrence 1:56:31.
Beachy Head Marathon – 29/10/16
On Saturday 29th October, the Eastbourne Beachy Head Marathon took place and is one the biggest off-road marathons in the UK with 1711 finishers this year. Formerly known as the Seven Sisters Marathon, it is popular for its scenic and challenging route through the South Downs National Park countryside.
A large group of 14 Harriers decided to take on this super tough marathon. The weather was perfect with the cloud lifting to make the stunning scenery on route even more beautiful. Neil Clark the first Harrier home in 3:54:04. Full results:
119th Neil Clark 3:54:04, 144th David Barker 4:00:19, 146th Timothy Knapp 4:00:37, 235th Keith Mitchell 4:15:24, 272nd Derek Harrison 4:19:31, 687th Jonathan Hodge 5:07:54, 705th Andrew Boorman 5:10:26, 736th Michael Kennard 5:13:20, 737th Ana-Maria Green 5:13:20, 859th Ian Nunns 5:25:34, 974th Amanda Paver 5:36:01,  1046th Lucille Joannes 5:42:34, 1116th Deborah Stamp 5:51:29, 1267th Peter Knapp 6:13:20.